Apple Releases iOS 8.4.1, Patches Vulnerabilities Used for Jailbreak

Apple has released iOS 8.4.1 with a number of stability enhancements and bug fixes for Apple Music. Apart from adding several minor improvements to the streaming music service and mobile operating system in general, the guys from Cupertino have patched a number of vulnerabilities used by Taig tool for untethered jailbreak of iOS 8.4. If you have a jailbroken iPhone, iPad and iPod touch and want to keep your device hacked, stay away from iOS 8.4.1. Well, at least now. If someone releases untethered jailbreak of iOS 8.4.1, I will let you know as soon as possible.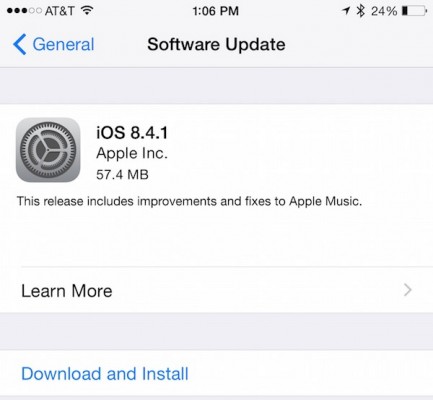 Apart from patching vulnerabilities used for jailbreak, Apple has added several improvements to Apple Music functionality.
iCloud Music Library now works as it should.
Nothing prevents users from listening to offline music
Issues with album artwork on different devices are gone.
If you use a non-hacked iOS device, you can update it right now. iOS 8.4.1 is available for Apple users worldwide. To download and install the latest update, go to Settings - General - Software Update. Before starting the update process, make sure you have a backup copy of your device and active Internet connection.
If you face any problems with updating your system, don't hesitate to ask for help in the comments section below.

Leave a comment