Apple Will Reportedly Unveil iPad 2 On March 2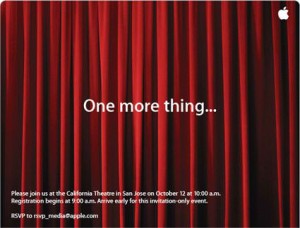 Kara Swisher from All Things D reported yesterday that the iPad 2 will be unveiled on March 2, most likely at the Yerba Buena Center for the Arts, which became the common place for Apple media events.
Citing multiple sources she added that the invitations will be sent by Apple soon. No other details were unveiled.

The first-gen iPad was announced in January of 2010 and launched in early April. The so-called iPad 2 is expected to have a faster processor and graphics, more RAM, and a front camera for FaceTime support.
Previous rumors suggested that this Fall Apple may also release another iPad with even more features.
This week AppleInsider also reported that in the coming days Apple has scheduled a meeting for its retail employees. They even were asked to sign a non-disclosure agreement.

Leave a comment