Apple Won't Arrange '12 Days of Gifts' Promotion This Year

As you probably know, every year since 2008, Apple has been offering a promotion called "12 Days of Gifts". The guys from Cupertino used to give away songs, various apps, movies and other useful stuff for the customers in the USA, Europe and Canada during the 12 days after Christmas. This year, however, it looks like Apple won't arrange its traditional promotion.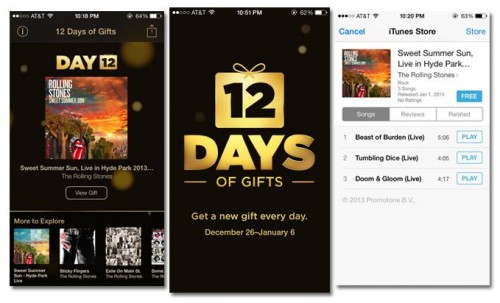 The main thing that proves such a supposition is the lack of information from the company. You see, Apple hasn't officially announced "12 Days of Gifts" for this year and is very unlikely to do that as it is too late.
A report from Macworld earlier this week cited sources as saying Apple had no plans to participate in its yearly promo, and with no app or mention of the program in sight as of Dec. 27, the rumor is all but confirmed.
Earlier, ahead of every Christmas, the guys from Cupertino released a dedicated app called 12 Days of Gifts on the App Store. Using this app, users could grab all the gifts, which were made available in the period of 12 days after Christmas.
12 Days of Gifts promotion was a good way to lure new customers and make something pleasant for the old ones. To be honest, I don't know why Apple decided not to arrange this campaign in 2014.
[via AppleInsider]

Leave a comment