Apple to Arrange Its 'Lucky Bag' Promotion in Japan on January 2nd

I have a piece good news for all the Japanese customers. Apple has recently confirmed that it will arrange its traditional annual "Lucky Bag" promotion on January 2nd at the retail stores across the country.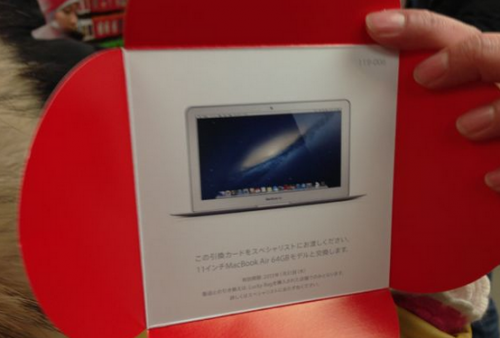 In case you don't know, "Lucky Bag", or Fukubukuro in Japanese, is a sealed package with a certain price that contains one or several Apple gadgets or/and accessories. A customer who purchases a particular package has no idea of what's inside, however, the point is that usually the price of the "Lucky Bag" is lower than the total worth of goods found inside of it. A Fukubukuro bag can contain Apple's iPhone, iPod, iPad and even the 11-inch MacBook, so it is no doubt worth purchasing.
Terms and conditions for this year's Lucky Bags promo were posted to Apple Japan's retail website, revealing festivities will kick off on Jan. 2, 2015, with many Japanese Apple Store locations open two hours early to accommodate a usual throng of customers. The change was spotted by Japanese blog Kodawarisan.
The "Lucky Bag" promotion is beneficial for both the guys from Cupertino and customers. Unfortunately, it is held only in Japan and only once in a year. I wish we had such promotions too.
[via AppleInsider]

Leave a comment