Apple working with US energy company on North Carolina solar farm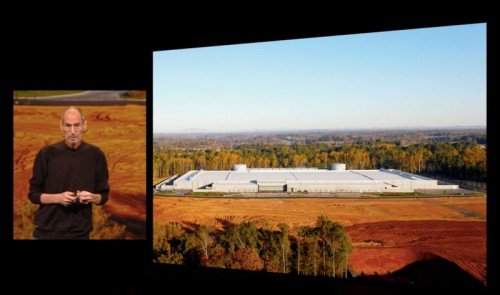 Apple cooperates with an American company which helps Apple to build its forthcoming solar farm in North Carolina. Leaf Solar Power, a renewable energy company that specializes in residential and "small" commercial projects in South Florida is working with Apple on construction of Apple's $1 billion data center, according to a person familiar with the ongoing project. Apple's massive $1 billion data center was opened this spring. The main purpose of the facility is to support Apple's online services, including iTunes and the newly launched iCloud. And use of sustainable energy is not new for the company. As usual for Apple, details of the project have not yet been revealed. We just know that last month Apple received permit to erosion control in the area.
This is quite unusual that Apple chose U.S.-based solar company, because now the most part of solar panels is produced overseas. In particular, solar panel production has greatly shifted to China over the last two years. That fact has become such an issue that earlier this year, U.S. President Barack Obama signed a law with a "Buy American" provision for the purchase of solar panels. So may be Apple decided to support President's idea?!

Leave a comment