Apple's 2012 shareholder meeting set for February 23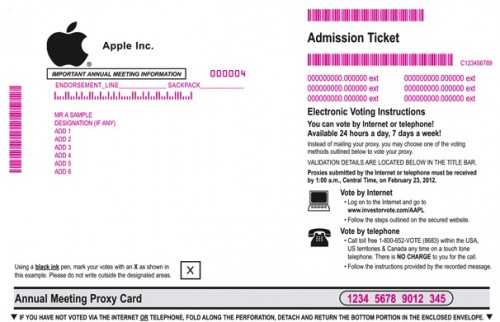 Apple Senior Vice President and General Counsel Bruce Sewell has issued a letter on Monday where Apple informs the company's shareholders that its annual shareholder meeting will be held at 10 a.m. Pacific on Feb. 23 and will include four shareholder proposals. Last year's meeting was also held on Feb. 23. Only shareholders of record as of Dec. 27, 2011 will be eligible to attend and vote at the meeting.
The agenda for the annual meeting includes: the election of Apple's board of directors, ratification of Ernst & Young as its independent registered public accounting firm for the year, an advisory vote on executive compensation and consideration of four shareholder proposals.
The first shareholder proposal is the request for a "Conflict of Interest Report" that requires to disclose any investments of board members that would represent a financial conflict of interest, describes the role board members play in the development of the company's policies.
The second proposal is entitled "Shareholder Say on Director Pay." Shareholder James McRitchie has submitted a proposal that would expand the advisory vote on executive compensation already on the ballot to include a shareholder vote on board of director compensation.
Carey Lovelace has submitted the third shareholder proposal, entitled "Report on Political Contributions and Expenditures," that would require Apple to submit a semi-annual report disclosing its policies and procedures for political contributions and expenditures made with corporate funds.
The final shareholder proposal is entitled "Adopt a Majority Voting Standard for Director Elections." According to the proposal, director nominees would require a majority vote even when running unopposed.

Leave a comment