Apple's Data Center Makes A Google Maps Appearance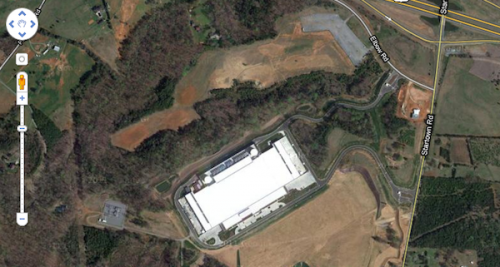 Apple's new data center in Maiden, North Carolina, is now visible in Google Maps. The building hasn't changed at all – it's the same constriction we've seen in different shots during the past months. But it is interesting that only now Apple allowed Google to display the data center in theirs Maps service after Apple's announcement concerning the WWDC where Apple confirmed that Steve Jobs would appear at the conference keynote and that the company will unveil the iOS 5, OS X Lion and iCloud. It seems that such sudden appearance of the data center in Google Maps may be a confirmation of Apple's intention to use this massive facility for iCloud and cloud-related services.
But if you asked Google Earth or Google Maps to show you the intersection of U.S. Route 321 and Startown Road — where the data center is located — the current satellite imagery stopped a few yards short of the construction site. West of Startown Road, there was, as recently as two weeks ago, nothing but woods and farmland and a bit of driveway that ended abruptly in the middle of a field. After Apple's announcement Tuesday that Steve Jobs was ready to reveal iCloud — the "upcoming cloud services offering" presumably based in Maiden, N.C. — we thought we'd give Google Maps another try. Lo and behold, there it was: A huge, white, nondescript building with a road leading in, a road leading out, and almost no employee parking.

Leave a comment