Apple's Developer Center Was Hacked

Apple's developer website was hacked. This is the official statement made by Apple today. As you probably know, the dev webpage has been down for more than 4 days now due to the work on restoring the database system, updating the server software and troubleshooting. Well, at least this is what we're told.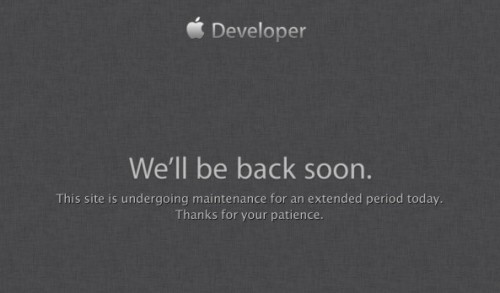 After keeping silence for so many days, the Cupertino company finally admitted there're some problems with the website. Here's the email sent to one of the developers yesterday:
Apple Developer Website Update

Last Thursday, an intruder attempted to secure personal information of our registered developers from our developer website. Sensitive personal information was encrypted and cannot be accessed, however, we have not been able to rule out the possibility that some developers' names, mailing addresses, and/or email addresses may have been accessed. In the spirit of transparency, we want to inform you of the issue. We took the site down immediately on Thursday and have been working around the clock since then.

In order to prevent a security threat like this from happening again, we're completely overhauling our developer systems, updating our server software, and rebuilding our entire database. We apologize for the significant inconvenience that our downtime has caused you and we expect to have the developer website up again soon.
The compromised server wasn't associated with any customer information, which is kept encrypted and secured on other servers. Apart from that, Apple says that the hackers were unable (or simply did not have an intention?) to get access to the app code.
So, everything seems to be OK now.

Leave a comment