iTunes revenue in Q3

FORTUNE has found out how much iTunes earned in Q3.
iTunes, Software and Services  have recently been consolidated by Apple into one line item which had a revenue of  $12.9 billion in fiscal year 2012. They are now the second fastest increasing  revenue torrent and according to analysts it will be ahead of both the iPhone and iPad in year to take the first place.
iTunes revenue has recently been estimated by nearly 40 analysts  - 22 Wall Street professionals and 18 amateurs. The range of their estimates is from $5.6 billion suggested by Jefferies' Peter Misek to as low as $3.3 billion from Sunil Shah, an independent analyst from the Braeburn Group. The average estimate is of $4.17 billion. The figure is 30% higher than the $3.20 billion listed for the same quarter last year.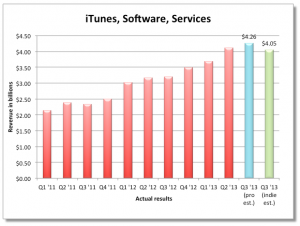 The analysts from Wall Street tend to be more bullish than amateurs. The professional analysts are predicting 33% growth while the amateurs are predicting 26%.
Apple will announce its fiscal Q3 2013 earnings on Tuesday, July 23.

Leave a comment