Apple's MacBook Market Share Falls 40% in Q1 2016

According to the latest report from TrendForce, Apple's laptop sales have fallen more than 40% over the last couple of months. In the fourth quarter of 2015, Apple's MacBook market share was equal to 9.7% and now it is estimated that the share accounts for 7.1%. Keeping in mind that total shipments fell in 2016, the decline made up 40.4%. In general, Apple went from the fifth place in the ranking of top laptop vendors to the sixth.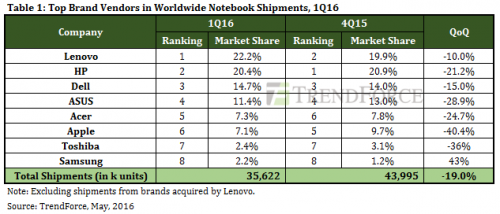 As to the other vendors, Lenovo surpassed HP and become the leader of the global laptop market.
In the first quarter, Apple did not have any new MacBook products ready for the market, nor did it lower MacBook prices to generate sales. Apple's Wintel-based competitors, on the other hand, benefitted from Windows 10 and the steady supply of Intel's Skylake CPUs.
Apple has to either lower the prices for its MacBook lineup or release a new model to attract customers. Apart from that, the updated 12-inch MacBook and its sales may help the company to improve the position on the global market in the second and third quarters of this year.
[via TrendForce]

Leave a comment