Apple's Poster to Commemorate the Fifth AppStore Birthday

Looks like Apple has hired a new guy responsible for all kinds of graphics and the way Apple gadgets look. At first he paints new 'cheap' iPhones red, green and yellow, then completely redesigns iOS 7 and after that persuades the executives to register a new FaceTime logo, which he likes immensely, as a trademark.
Well, there're probably some other reasons for all that to happen, of course, but it really seems that Apple is currently centered primarily on the appearance – in addition to the things mentioned above, it has released a new poster commemorating the fifth anniversary of AppStore, Tim Bradshaw of Financial Times reports.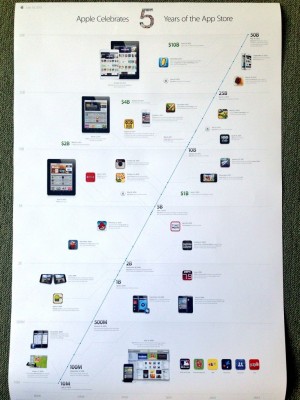 To be honest, it's not a piece of cake to make out what that infographics mean. However, if to think for a while it turns out to be a kind of record of service, with various impressive figures like the number of apps available on the AppStore and the total sum paid to developers over past five years right before eyes.
So look at the poster and be proud since there's a tiny part of every iPhone, iPad or iPod touch user there. Especially of those mad gamers, who bought and installed each new game or application immediately after release. Happy birthday to AppStore!

Leave a comment