Apple's tablet market share decreased from 95% to 77%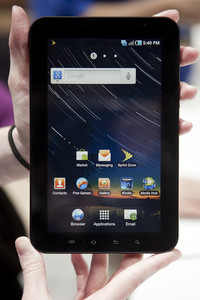 Yesterday research firm Strategy Analytics has reported that in the December quarter iPad rivals started to conquer the tablet market, which caused Apple's tablet market share to drop from 95% to 77%.
In the Q4 of 2010 Apple sold record 7.3 million iPads and thus represented 95% of the market. Android shipments in turn increased from 100,000 units to 2.1 million, which eventually significantly changed the situation on the market, the director of Strategy Analytics Neil Mawston told.

"The Samsung Galaxy Tab was the main driver of Android success. Tablet makers like Android because of its perceived low cost and an accompanying range of compelling media services such as YouTube and Google Maps."
Earlier Samsung has revealed that it sold 600,000 Galaxy Tabs in November and 2 million units throughout the fourth quarter.
So currently Apple holds a tablet market share of 77%, and Android occupied 22% of the market.
But this is only the beginning, as 2011 will bring even more tablets to the market. The Motorola Xoom will be released in the first quarter, its price will presumably be $799.99. RIM is currently working on its PlayBook 7-inch tablet, which is also set to be unveiled in a couple of months. Rumors have it RIM wants to significantly extend the battery life of its device, and recent surveys indicated people are not as interested in this device as they were interested in the iPad.
In any event, Apple is also preparing to the tablet war with developing of the next-gen iPad.

Leave a comment