Google topples Nokia and becomes a top smartphone platform maker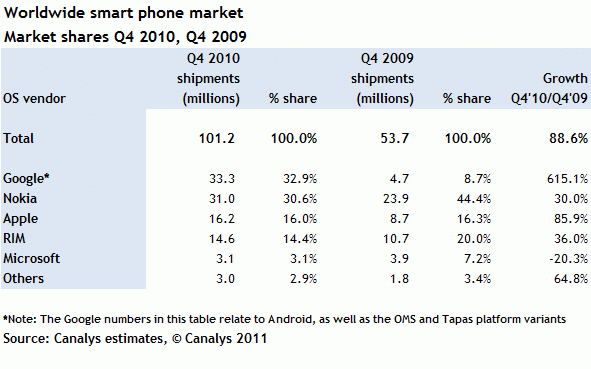 Yesterday research firm Canalysis revealed a new study, where it was found that last quarter there were sold 32.9 million smartphones, which are based on Google platform, including Android, Tapas and OMS. In turn, according to Reuters only 31 million of Nokia's smartphones with Symbian OS were sold over the same period of time, and that allows to conclude that Google has overtaken Nokia and became a top smartphone platform maker in the world.

Google's sales grew 615% year over year, while Nokia has only 30% growth. The third place was taken by Apple, which sold 16.2 million iPhones and thus gained 16% of the global smartphone market. RIM and Microsoft placed third and fourth places with their 14% and 3% market shares respectively.
Nokia still remains a top handset maker worldwide, but in recent years the company has faced problems with producing quality smartphones. Even its former chief executive office Olli-Pekka Kallasvuo admitted that Nokia tried and failed to make a splash on the smartphone market of the United States.
Current Nokia's flagship smartphone is N8. The device was delayed significantly and appeared only in the Q4 of 2010. Since then 4 million units were sold, but many analysts think this is too little for Nokia.
Besides that, last year Nokia had also changed its CEO and lost its Chairman and smartphone chief(both of them left the company).

Leave a comment