Ars Technica Proves iPhone 6s Units with TSMC and Samsung Chips Have Similar Battery Life

Last week, Apple issued a statement claiming that the real-life battery life of iPhone 6s and iPhone 6s Plus units equipped with A9 chips manufactured by Taiwan Semiconductor Manufacturing Company and Samsung may vary a bit. Earlier this week, the experts from Ars Technica have conducted a battery life test on two iPhone 6s models with different processors inside to either confirm Apple's words or deny them.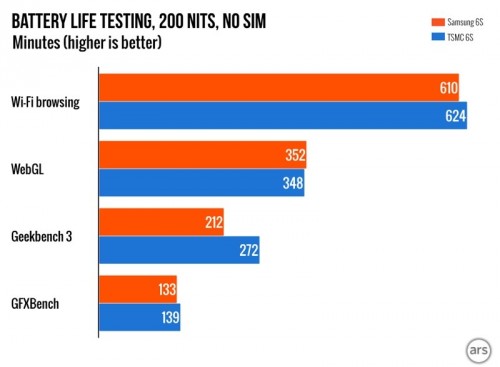 According to the results of the tests measuring the battery life while using Wi-Fi, WebGL, Geekbench 3 and GFXBench, it appears that there's really only a slight almost inconspicuous difference between the devices with different CPUs inside.
Aside from the Geekbench test, which saw a battery life difference of 28 percent between the two devices, the TSMC iPhone and the Samsung iPhone scored within two to three percent of each other. In Ars' opinion, in the real world, there's going to be little difference between a Samsung iPhone and a TSMC iPhone.
The results of the Ars Technica battery life testing can be called objective as the company experts have been using two new AT&T iPhone 6s units with SIM cards removed and screen brightness set to the exact same level. Average users can purchase any iPhone 6s unit and don't worry about the battery life.
[via MacRumors]

Leave a comment