Bump App Loses The Ability To Share iTunes Music Between Devices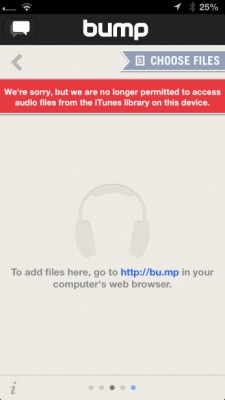 The popular file sharing app Bump today was updated to version 3.5.8. According to change notes, in the new version developers have removed the ability to share tracks from your iTunes library to your computer or another Bump user.
"New in 3.5.8:
+ Bug fixes and performance improvements.
+ We're sorry, but we are no longer permitted access to iTunes audio files on the device. Removing access to iTunes audio files in the file sharing section".
If you want to keep this function, you can save a copy of the old version of the Bump app in case you accidentally update to the new version. You can drag the icon of the Bump app out of the Apps section in your iTunes library and drop the icon in a folder to store it there. If you accidentally update the app to the new version, you can just delete the app from iTunes library and your device, then drag the old version of the app to iTunes and reinstall it from there.

Leave a comment