CloudOn Brings Free Microsoft Office Functionality To iPad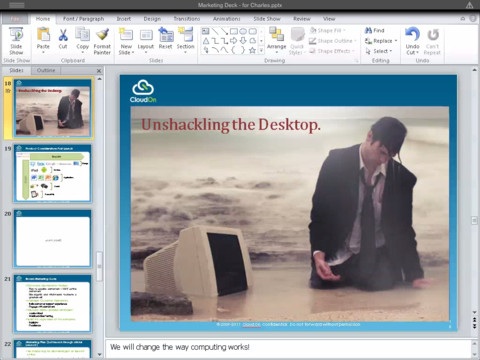 Yesterday startup CloudOn launched a free iPad app WorkSpace aimed at bringing the Microsoft Office's functionality to the iPad. This app actually works as an interface for the cloud-based app operated on CloudOn's servers, so it requires connection to the Internet. The app provides the functional implementation of Microsoft Excel, PowerPoint and Word as well as full integration with syncing and file storage through Dropbox.
The app offers the ribbon toolbars in Office style with a great number of tools and features included. Given the limitations of using the app on an iPad and through a cloud-based interface, there are some constraints, for example, you can not insert outside images into a file using this interface. Also the WorkSpace is currently available only in U.S.
The CloudOn company has little in the way of web presence and publicity. The compnay was founded in 2009 by former Cisco employees and periodically attracted investments while working on its cloud-based service for bringing Microsoft Office functionality to the iPad.
Microsoft has acknowledged exploring the possibility of delivering Office to the iPad, and according to recent rumors, the company is "actively working" on Microsoft Office for iPad.

Leave a comment, read comments [2]