Companies Will Pay $10 Million To Be Placed in Apple's iAd Program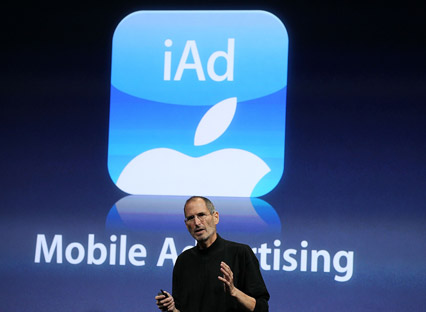 Yesterday The Wall Street Journal reported that this year Apple is going to charge companies 1$ million for iAds on its mobile devices. Citing an unknown but reliable source familiar with the matter those companies that want to become a part of the iAds launch will pay $10 million to be first in the door.
The pricing policy of iAds is pretty simple. Every time user sees an ad the advertiser is charged a penny. If he's tapping the banner, Apple charges $2. So $1 million ad buy will provoke a big amount of its views and user taps.
In addition to a higher price Apple wants to take more control over marketing campaigns of its clients. But still it doesn't reduce companies' interest in iAds:
"Despite the high price, ad executives at agencies from Boston to New York and San Francisco to Los Angeles have crowded into conference rooms in recent weeks to listen to the tech company's pitch for iAd".
One of the advertisements that is already developed is an ad for Nike's Air Jordan basketball shoes. It includes iAd logo and animated banner. If you select it, you'll see an interactive store locator, special videoclip and exclusive offers taking place at local stores. This iAd was also shown by Apple on its iPhone OS 4 preview event.
Some experts think Apple's appearance at the market of mobile advertisement may convince some other selling ads companies to switch to other mobile platforms (for example, Google Android).
With a growing popularity of apps for Apple devices advertisers and developers see iAds as a potential opportunity to reach a wide audience and raise more money on it.

Leave a comment