Concerns about the First Generation iPod Nano Battery in Japan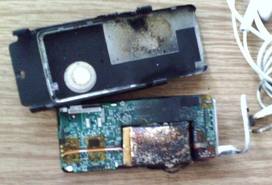 According to the Reuters news agency, one of the Japanese authorities demanded from Apple to provide customers with the information about obtaining spare batteries for the first generation IPod Nano with respect to the fire hazard from the superheated batteries.
The authorities requested Apple to issue on the Internet an easy-to-understand statement to explain how the users of the device involved in four cases of minor burns in Japan will be able to receive spare batteries and appropriate consultations.
The Japanese authorities began to put pressure on Apple on this issue last week but the company referred to the fact that the matter had been transferred to the supplier of batteries. The company said that safety would be considered as their top priority.
The Apple company representative Tom Neumayr reported on close collaboration with the Japanese Ministry of Economy, Trade and Industry (METI) to provide customers of the first generation IPod Nano, who are concerned with the state of their batteries, with the latest information.
The Japanese officials first raised the issue of overheated IPod Nano some two years ago and continue to receive claims from consumers about such incidents. The company has long presented some certain supporting documentation but the Japanese are now demanding more visible and understandable information.

Leave a comment