Confirmed: iPad 3 Has a 2048x1536 Retina Display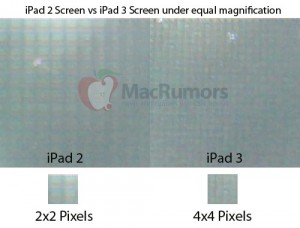 MacRumors managed to obtain the rumored iPad 3 displays, of course, these iPad 3 screens weren't directly sourced from Apple, and examined them under a microscope to determine if they are indeed an ultra-high resolution Retina displays.
Physically, the purported iPad 3 display is the same size as the current iPad 1 and iPad 2 display at 9.7" in diagonal, and looks quite similar to the naked eye.

However, when comparing the iPad 3 display to one from an iPad 2 under a microscope, the difference in resolutions becomes readily apparent, with the iPad 3 display's pixels appearing to be one-quarter the size of those on the iPad 2.
Since we only had a raw iPad 3 display with no method to power it, taking high quality photos of the pixels was difficult. Still, even with the relatively poor lighting, you can easily make out the pixels on each display (made up of red, green and blue elements). We highlighted a cluster of 4 pixels (2x2) from the iPad 2 to compare it to the same area on the iPad 3. On the iPad 3, the same cluster was occupied by 16 pixels (4x4) -- exactly twice the resolution in each direction.
Last year we reported that display manufacturers faced with difficulties in mass-producing 2048x1536 9.7" Retina displays. Apple is said to reveal the next-generation iPad at the media event on March, 7.

Leave a comment, read comments [1]