Corona untethered jailbreak for iOS 5.0.1 gets updated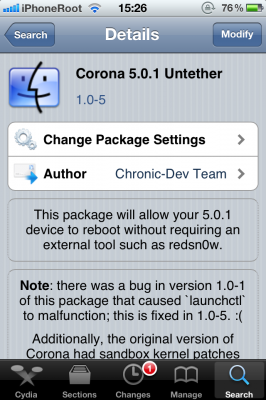 Saurik has announced that an update to the Corona Untethered Jailbreak has been released in Cydia.
The update fixes issues for iBooks and launchd and it's recommended that users who previously jailbroke their A4 devices install the Corona package from Cydia.
Corona (5.0.1 untether) 1.0-4 is now out: users of redsn0w or the older packages should install. This fixes both iBooks and launchd (again).
As many users don't realize that untethers only affects boot, I just released 1.0-5 of the Corona package, which forces a reboot on upgrade.
You can find instructions on how to install Corona here.


Leave a comment, read comments [2]