Bluetooth wireless audio Creative D200

Almost every iPhone, iPad or iPod Touch user faces a problem of listening music at home. Some use headphones, others listed through embedded speakers, however everybody wants to connect their gadget to some loud high quality home stereo system.
There tons of dock stations for various players and smartphones including ones for iPhone and iPod. However dock stations allow users to plug in just a single set of devices due to connection port incompatibilities. Even Apple changed it's port when iPhone 5 was released with lightning port. So if you actually bought expensive iPhone 4 dock station and realized you want iPhone 5 - you're in trouble, because a new dock station for iPhone 5 is needed. There are adapters and converters on the market that might help, but the idea is clear - there have to be some technology that would allow us to use different devices from various manufactures including iOS, Android, Windows Mobile, etc. Here comes Bluetooth. It is not just supported by almost all modern smartphones, players, tablets and even notebooks, it also does not require users to physically connect their gadget to a stereo, because it is wireless technology.
Today we want to take a look at Creative D200 - wireless speaker system that supports Bluetooth. While the quality of this device is quite good, the price is attractive as well. You can get one for about $100.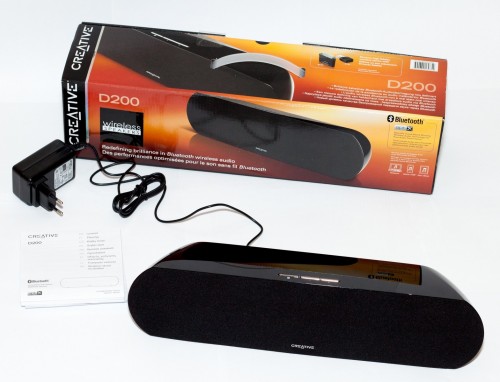 You get an easy carrying box, the speaker itself, power supply and user manual. D200 has a nice compact design that is ideal for shelf placement. Glossy black plastic looks nice, but you'll need to polish it with cloth from time to time. On the back site there is a phase inverter for low frequencies, on/off button, line-in port and a power supply connector. D200 is controlled by three buttons on the top of the device, two for volume control and the other one for Bluetooth connectivity.
It is very easy to start listen to the music: you need is to turn on D200, the green light goes on, then hold that Bluetooth button down for a few seconds, the light goes blinking blue. On iPhone just navigate to Settings - Bluetooth, then find and select Creative D200 in the list of found devices. That's it. Easy!
Now you can open Music or any other app, the music will be wirelessly transmitted to the D200.
The sound quality is quite good. We did not expect much from a device for $100 and we were wrong. Creative D200 bass is impressive at both low and high volume. Middle and high frequencies are good too. You can not compare this sound with notebook or tablet speakers, it's just totally different level of quality. As for the volume, there is enough power for your neighbors as well

.
We've tried D200 with iPhone 4S, iPhone 5, iPad, several android phones and couple notebooks. Did not found any problems. D200 supports A2DP Bluetooth profile and SBC/aptX codecs, that allows so while the sound is transmitted wirelessly the sound quality is good.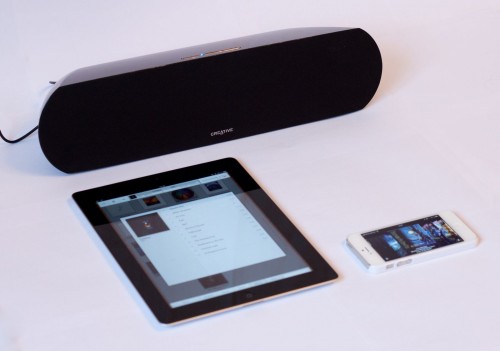 Overall, the Creative D200 is a Bluetooth wireless speaker that sounds great, portable, affordable, looks good, and also simple to use and control.
Specifications:
| | |
| --- | --- |
| Weight: | 1.65kg |
| Dimensions (L x W x H): | 40.6 x 10.1 x 9.3 cm |
| Bluetooth Version: | Bluetooth 2.1 + EDR (Enhanced Data Rate) |
| Supported Bluetooth profiles: | A2DP (Wireless Stereo Bluetooth)* / AVRCP (Bluetooth Remote Control) |
| Supported Codecs: | SBC, aptX |
| Operating Range: | Up to 10 meters (Measured in open space. Walls and structures may affect range of device.) |

iPhoneRoot thanks Creative and Powersales International for providing Creative В200 review sample.

Leave a comment