Portable Wireless Speaker Creative MUVO 20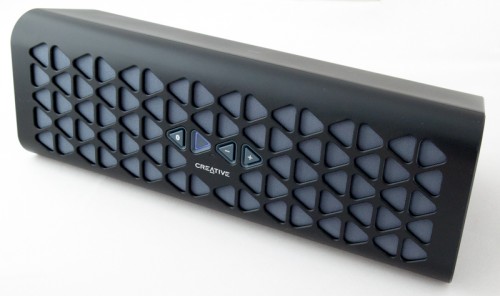 With growing popularity of smart devices, like smartphones and tablets, most users demand wireless and mobile features from audio systems. That is why most modern speakers support bluetooth connectivity. Bluetooth helped us to get rid of audio cables. But what about power cords? Today we will take a look at Creative MUVO 20 - portable mobile wireless speaker with internal battery.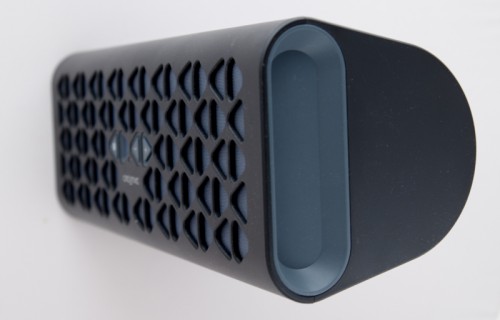 In the box you will find the speaker itself, Micro USB for charging, and user manual. MUVO 20 has a nice modern design that is ideal for shelf or table placement. Frosted black plastic looks nice, you wont need to polish it since it does not keep fingerprints. On the front there is a bluetooth connection button, indicator and a pair of volume control buttons. On the back side there is a phase inverter for low frequencies, power on/off switch, line-in port, USB for charging external devices and Micro USB to charge the speaker itself.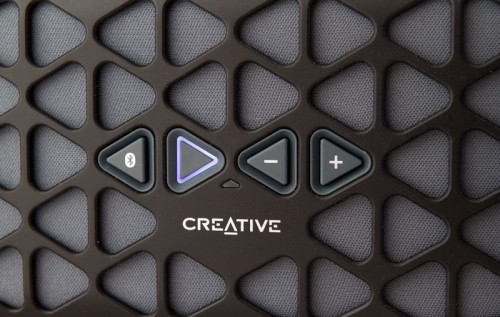 Creative MUVO 20 features a pair of powerful 3" full-range drivers and BasXPort technology advanced dual-flared bass port tube. MUVO 20's built-in Li-ion battery lasts more than 10 hours on a single charge. You can simply recharge it via USB. If you're running low on battery power, MUVO 20 can also be used as a backup power source to charge your mobile devices, like smartphone or tablet.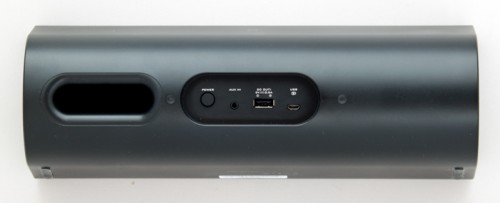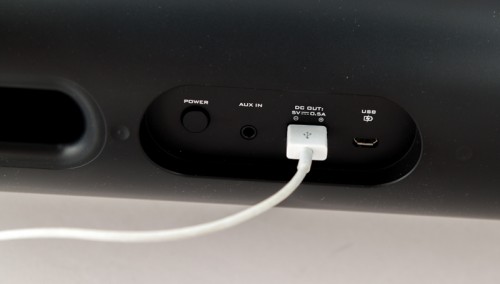 MUVO 20 also have a microphone, that means it can act as a speakerphone so you can use it for hands-free mobile voice calls. That's impressive.
It is very easy to start listen to the music: you need is to turn on MUVO 20, the green light goes on. Then hold Bluetooth button down for a few seconds, the light goes blinking white. On the iPhone just navigate to Settings - Bluetooth, then find and select Creative MUVO 20 in the list of found devices. That's it. Easy!
MUVO 20 can also connect to devices with NFC technology (Near Field Communication). Unfortunately most Apple smartphones do not support NFC yet, while Android users will be happy to try NFC.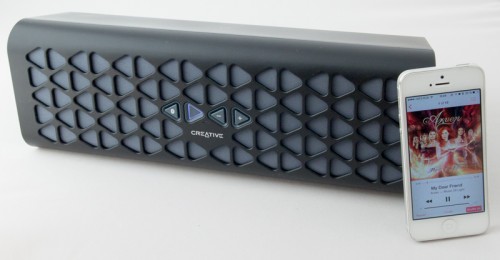 Now you can open Music or any other app, the music will be wirelessly transmitted to the MUVO 20.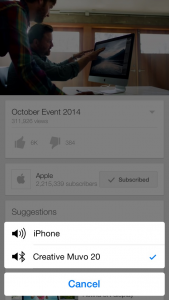 The sound quality is quite good. Creative MUVO 20 bass is impressive at both low and high volume. Middle and high frequencies are good too. You can not compare this sound with notebook or tablet speakers, it's just totally different level of quality. As for the volume, there is enough power for your neighbors as well

.
We've tried MUVO 20 with iPhone 4S, iPhone 5, iPhone 5S, iPad, several android phones and couple notebooks. Have not found any problems. MUVO 20 supports A2DP Bluetooth profile and SBC/aptX codecs.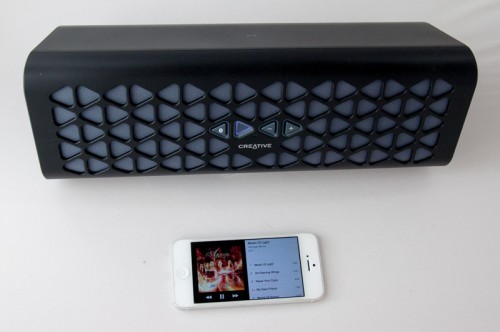 Overall, the Creative MUVO 20 is a great Bluetooth compartible mobile speaker system that sounds great, portable, affordable, looks good, and also simple to use and control. While the quality of this device is quite good, the price is attractive as well. You can get one for about $80.
Specifications:
General

System Configuration
Dimensions

Speaker: 115.0 x 335.0 x 115.0 mm (4.5 x 13.2 x 4.5 inches)
USB Cord Length: approx 0.6m

Weight

Speaker: 1.02kg (2.2lbs)
USB Cable Weight: 19g (0.7oz)

Color
Included Accessories

Recommended Usage

Wireless Streaming
Movies / Music
Outdoor

Controls / Connectivity

Bluetooth® Version
Bluetooth® Profile

A2DP (Wireless Stereo Bluetooth)
AVRCP (Bluetooth Remote Control)
HFP (Hands-Free profile)

Supported Codecs
Near Field Communication (NFC)
Connector Type
Volume Level Control

Features
Supported Platforms for Wireless Audio (Minimum Requirements)

Mobile/Smart Devices

Mobile / Smart devices with A2DP -enabled Bluetooth technology

Computers

Compatible with PC (Windows XP/Vista/7/8/8.1)
Apple Macintosh equipped with Bluetooth wireless stereo

Battery Specifications

Battery Type
Battery Life
Charging by
Charge mobile devices
iPhoneRoot thanks Creative for providing Creative MUVO 20 review sample.

Leave a comment