Early iPhone 5 Buyers Wanted Larger Display

According to a leaked document from the Apple vs Samsung trial, early iPhone 5 buyers already wanted larger display, improved battery life and better Maps app.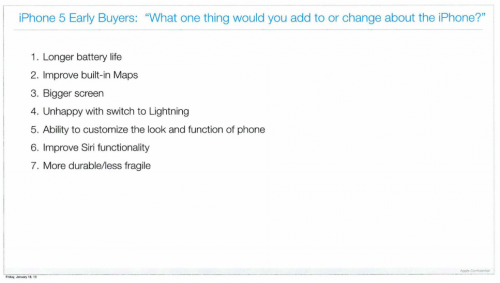 The guys from Cupertino asked early iPhone 5 customers "What one thing would you add to or change about the iPhone?" And here're the most popular answers (via iClarified):
Longer battery life
Improve built-in Maps
Bigger screen
Unhappy with switch to Lightning
Ability to customize the look and function of phone
Improve Siri functionality
More durable/less fragile
Looks like Apple learned the lesson and tried to take into account as many customers' suggestions as possible. That is why iPhone 6 is expected to get a 4.7-inch or 5.5-inch display, better battery and a bunch of other improvements.
Apple hasn't yet announced its next-gen handset, however, according to the latest rumors, the release will take place in the second half of this year. Let's wait.

Leave a comment