Every Third iPad Owner Will Use It Mainly For Reading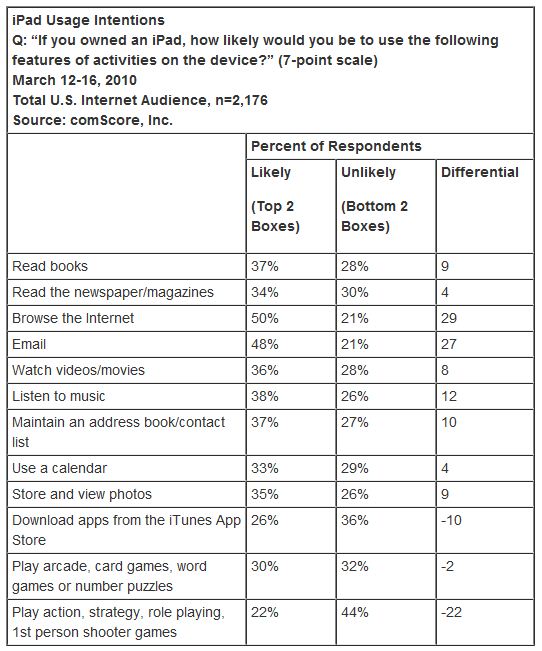 Last week comScore released a poll of 2,176 consumers who were asked about how they will use their iPads. At least 37% of device owners will read books on it, and 34% will read magazines and newspapers. It is interesting, that only 26% of respondents reported that they will download apps from the App Store. So what will do another at least 8% of customers, who want to read books from the iBookstore that must be downloaded from the App Store (as it won't come preinstalled on the iPad)?
The poll also reveals that every customer who has already had an experience of working with Apple products, the so-called "iOwners", is more likely to purchase apps and newspapers than any other.
"These findings suggest that those who are already familiar and comfortable with making digital content purchases via iTunes may have a relatively higher receptivity to making similar purchases for the iPad".

The study also shows that 65% of respondents have heard about iPad and Kindle, and 15% are going to buy iPad against 14% of those who seriously think about purchasing Kindle. And that is no surprise, as iPad proposes more means to use itself, than black-and-white e-ink Kindle.
The comScore study also revealed next facts:
The consumers who have already preordered an iPad are likely to have iPod Touch or iPhone.
49% liked the name iPad, 27% were indifferent about it. The results are gender-neutral.
Only 22% of respondents take an iPad as a replace of netbook. 37% are going to purchase iPad as a replace of iPod Touch.
AT&T customers will likely buy an iPad in first 3 months, and 25% of them have an intention to purchase it. But only every 10th Verizon customer will definitely buy an iPad.

Leave a comment