Moto Labs: iPhone's Touchscreen Is The Most Accurate

MOTO Labs conducted a new touchscreen test with a number of the most popular smartphones: Apple iPhone, HTC Droid Eris, Motorola Droid, Google Nexus One, Palm Pre and Blackberry Storm 2. The results were expected - iPhone has a first place and is followed by Google Nexus One.
The test was made by 7mm and 4mm robotic fingers for accordingly medium and light touch imitation. Moto Labs reports iPhone screen to have straight and accurate lines but with weaknesses at the edges of the panel. Nexus One with Droid Eris has a "solid performance". The results are almost the same because both of the devices are manufactured by HTC. As you remember, Apple filed a lawsuit about infringing their touchscreen-related patents earlier this month.
The results for the other smartphones can be seen on the picture below.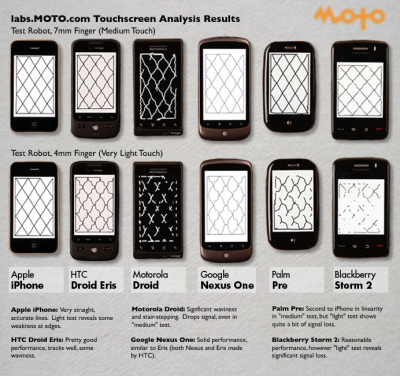 Leave a comment