Evidence of Quad-Core Chips Shows Up in iOS 5.1 Betas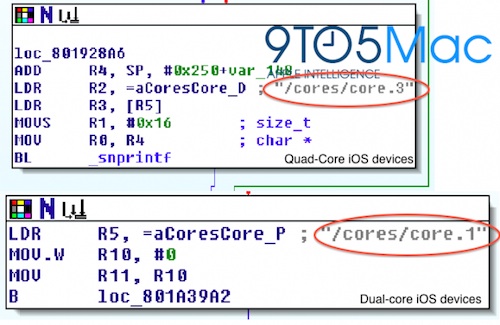 9to5Mac found evidence of support for quad-core processors that was hidden deep inside the latest iOS 5.1 beta. Apple leaving references to quad-core chips in the iOS 5.1 beta is notable because iOS 5.1 is the software currently being tested against the third-generation iPad.
Extremely reliable and knowledgeable people familiar with iOS's inner workings explained to me that core references begin at "0." For example: A single core device would be limited to  "/cores/core.0," and a dual-core device would come in at  "/cores/core.1." A "core.2″ (which is not referenced in iOS code) would be a triple-core processor according to this labeling method. iOS 5.1 beta 2 now includes core.3, a seemingly quad-core chip from Apple. Above, you can view a comparison between the pre-iOS 5.1 beta iOS core management software and the iOS 5.1 beta version. The dual-core A5 chip, on the bottom, has the "core.1," and the quad-core chip, on top, supporting iOS 5.1 beta is marked with the "core.3."
Speed increases are an expected part of Apple's iOS device hardware upgrades. Apple's A6 system-on-a-chip has been rumored several times to carry a quad-core processor that could be included in the company's next-generation iPad and iPhone models which are rumored for a release around March of this year.

Leave a comment