FaceTime for Mac Becomes Available on Mac App Store For 99 Cents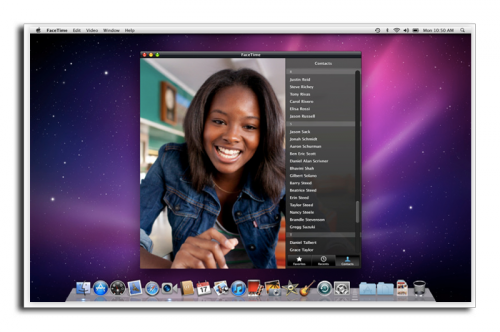 Along with new Macbook Pros yesterday Apple also released FaceTime for Mac.
Its latest beta-version became available back in October and allowed users who entered their Apple ID to chat with other users of Macs, iPhone 4 or iPod 4G.
The new version of application now supports 720p video, which can be made with the FaceTime HD camera in fresh MacBook Pros. The standard-definition camera on most other Apple devices can offer VGA-quality for Mac-to-Mac video calls.

FaceTime users can still make calls using their Address Book contacts and manage Favorites list, which consists of people they call most of all. The application also allows to see recent calls.
Playback and window controls now fade away in the version of FaceTime for Mac, so users may keep their focus on their conversation. If an iPod touch or iPhone 4 user switches from portrait to landscape views or from front to rear cameras the view on the Mac transitions smoothly.
Widescreen aspect ratio of FaceTime allows whole families or groups to participate in a video call. Users can also enable full-screen mode if they want to fully utilize their Mac display.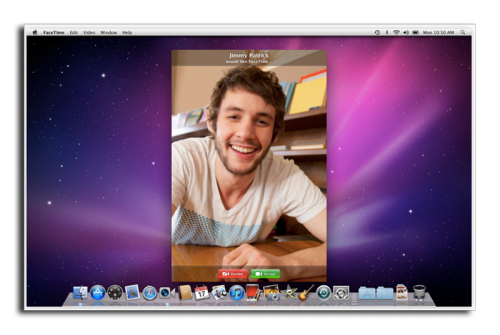 Version 1.0 has a push notification feature, which allows to call those users who have not yet launched FaceTime. If user has more Mac computers than one, all of them will be ringing when somebody will call.
FaceTime for Mac may be downloaded here for 99 cents. You can use it with a built-in FaceTime camera, an external or also built-in iSight camera, a FireWire DV camcorder or a USB video class camera. The program requires at least 128-Kbps downstream and upstream Internet connection. HD video calls are available only for those who have a built-in FaceTime HD camera and at least 1-Mbps downstream and upstream Internet connection.

Leave a comment, read comments [1]