Filming for Steve Jobs Biopic Continues in San Francisco

As you probably know, Danny Boyle and his film crew are currently working on a new movie about Apple's co-founder Steve Jobs. It is based on the Walter Isaacson biography, which was published in 2011.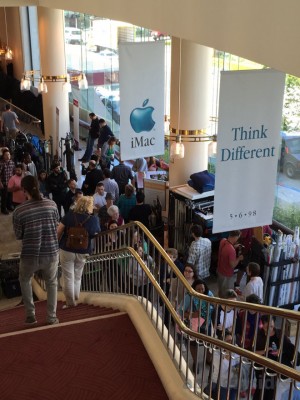 According to several images shared by AppleInsider reporters earlier today, the filming for the new movie is currently on its most active stage. Last weekend, the film crew recreated the famous "Back on Track" event, which was held on May 6th, 1998 in San Francisco and where Steve Jobs officially announced the iMac designed by Jony Ive.
This past weekend, that event was recreated in San Francisco for a scene in the upcoming Steve Jobs movie. One AppleInsider reader was in attendance as an extra, and provided the included pictures.

In the scenes filmed, banners featuring Apple's iconic "Think different" campaign can be seen, along with ads showcasing the iMac name and Apple logo.
In the upcoming movie, Michael Fassbender stars as Steve Jobs. Apart from that, in the biopic you will also see Jeff Daniels, Seth Rogen and Kate Winslet. The Jobs movie is expected to be released this fall, so let's wait.
[via AppleInsider]

Leave a comment