Firmware 3.1 beta 3: what's new?

Here are couple more facts about new firmware 3.1 beta 3:
Looks like the limit is 15MB for sending photo and video via emails.
Usage now shows separate "Cellular Network Data" and "Tethering Data". This is on a standard 3.1 beta 3 install, no hacks.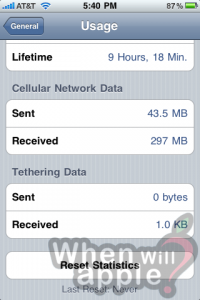 iPhone no longer vibrates when going into the edit home screen icon mode.
Button 123 is now _123:
Fixed problems with databases in different applications: Messages, Mail, Address Book etc.
In terms of API there are changes in UIKit (UIImagePickerController, UIVideoEditorController) and Audio Toolbox (AudioConverter, AudioSerives, ExternalAudioFile).
It still updates the Baseband (modem) to version 05:11:04.
Added the translation of labels "original size" and "Save as a new clip" when editing video.
Translated the string "ask to join network" in WiFi.
Enhance in sending and receiving SMS and MMS: In the previous beta it often returned an error when under conditions of a weak signal. Now everything seems to work in the best possible way.

Leave a comment