'Flashback' trojan estimated to have infected 600K Macs worldwide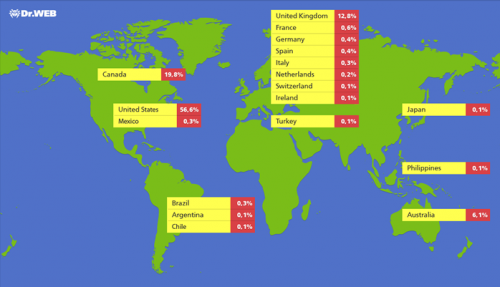 Russian antivirus company Dr. Web issued a report on Wednesday noting that hundreds of thousands of Macs are infected with the Flashback Trojan, with more than half of them in the U.S. alone. The attack takes advantage of an old Java vulnerability that Apple just patched this week. The malware self-installs after you visit a compromised or malicious webpage.
Variations of the Flashback trojan have reportedly infected more than half a million Macs around the globe, according to Russian antivirus company Dr. Web. The company made an announcement on Wednesday—first in Russian and later in English—about the growing Mac botnet, first claiming 550,000 infected Macs. Later in the day, however, Dr. Web malware analyst Sorokin Ivan posted to Twitter that the count had gone up to 600,000, with 274 bots even checking in from Cupertino, CA, where Apple's headquarters are located.
According to a map released by the firm, 56.6 percent of infected computers are located in the United States. Canada was second with 19.8 percent, followed by the U.K. with 12.8 percent of cases.

Leave a comment