Free iPhone 5c or a $100 Sprint Discount

Sprint makes the iPhone 5c a true lower-cost iPhone. One of the U.S. biggest carriers (after Verizon and AT&T) announced a $100 discount on any phone to those who switch to Sprint from other carriers. If to take into account the fact that the new iPhone 5c is available for $99 on a contact, it turns out one may get it for free!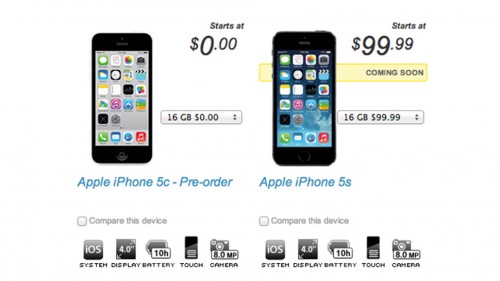 Switch to Sprint, keep your number and save on any phone -- only for a limited time, and only from Sprint.
The offer will be available until October 10th; it excludes taxes, service charges and an activation fee. Still, this is the easiest (and the cheapest, too) way to get an Apple smartphone you've always dreamed about.
However, there's one strange thing about the deal - it was started before Apple unveiled its new iPhones, so whether the iPhone 5c will be available for $0 is still a question. At the moment, looks like it will!
As for the Sprint representatives, they've neither confirmed, nor denied the news about such a discount yet.

Leave a comment