Google Maps For iOS With New Features Now Available In App Store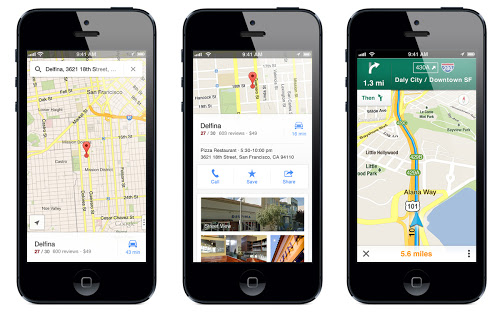 The anticipated Google's standalone Maps for iOS has gone live in the App Store. Now iOS 6 who are not satisfied with Apple's Maps app can switch back to Google's free map platform. The new app includes a number of features that were not available in built-in app on iOS 5 and earlier, notably turn-by-turn navigation and transit routing option.
Google created Google Maps SDK for IOS that allows developers to integrate Google Maps in their apps instead of Apple Maps. The SDK make it easy to link to Google Maps from inside the app allowing users to complete a search and view public transportation, walking and driving navigation.
Google's report on the app notes that Google Maps app for iOS can work on iOS 5.1 and higher, iPhone 4 and iPhone 3GS, but turn-by-turn voice navigation is not available on iOS 5 and these two iPhone models.
Google also said that its app is available in 29 different languages for 40 countries.
According to David Pogue's review:
- Google's place-of-interest database allows users, for example, to see interior photos for 100 restaurants, read customers reviews on a restaurant, read book reservations and menu.
- There is a Compass Mode that lets you move your phone around at certain locations and see the interior of places on your screen.
- The app also offers some Google Earth features, including the photographic model of the world and its oceans.
- The iPhone version can work on iPad, but iPad-specific version is coming.
Pogue also notes that Google admits that Maps app of IOS is better than the app for Android in terms of design.
Google Maps app for iOS is available in the App Store as a free download.

Leave a comment