Grab Sudoku [AppStore, Games]


Grab Sudoku is a beautiful application in AppStore (link) for a price of $0.99. With this app you can play and solve sudoku. It allows users to take photos of sudoku grids from newspapers and can automatically convert them to electronic format, offering the opportunity to play on our iPhone.
The characteristics of this application does not end there. You can also hit a "solve" button and get the answer. You can also take pictures of different sudoku, save them and play whenever you want.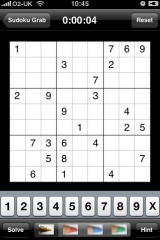 The video below gives a quick demonstration:

Leave a comment