Here's How Galaxy S8 May Look Like

A new image has been recently posted on Weibo showing possible design of the next iPhone rival, the Galaxy S8.
In line with latest rumors, the device has a curved screen that takes nearly all front panel. Furthermore, there are no buttons on the front of the device except for the Home button that may have the fingerprint scanner inside. In general, the device looks like an enhanced Galaxy S7 version with larger screen-to-body ratio.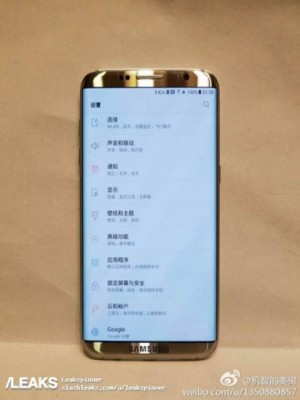 Nevertheless, the image is most likely fake. As noted by SamMobile, both physical and on-screen navigation buttons are missing, which doesn't make sense. Normally, when a user opens the Settings app, the on-screen buttons remain at the bottom of the display, but this is not the case with today's image suggesting that it may be photoshopped. There's also a tiny chance that Samsung has invented a new method of navigation through the device, but we don't think it is true.
Anyway, the Korean tech giant will unveil the Galaxy S8 at the media event in New York in April. Stay tuned for more updates about the future iPhone rival.
[via SamMobile]

Leave a comment