Here's How Low Power Mode in iOS 9 Saves Battery

As you probably know, Apple's upcoming iOS 9 can boast of a Low Power mode that helps to make the battery life longer by turning off the background activity and a number of other things you don't really need when your battery is about to drain. According to Apple, when the device is put into this mode, its performance is reduced. Although it's quite obvious, MacRumors reporters have decided to test the ability of  Low Power mode to extend battery life using Geekbench 3, which now supports iOS 9.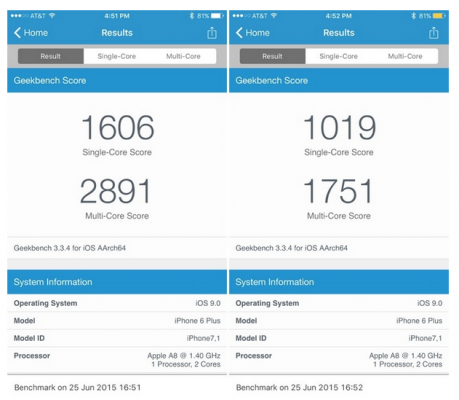 With iOS 9, Apple introduced a Low Power mode, designed to extend battery life when an iPhone's power is running low. According to the feature's description, Low Power mode works by reducing an iPhone's performance and cutting down on background activity.
With Low Power mode off, the processor of the iPhone 6 running iOS 9 managed to score 1606 on the single-core and 2891 on the multi-core test. After the new feature was activated, the results changed to 1019 and 1751 points respectively. Now we know, how exactly iOS 9 extends battery life.
iOS 9 is expected to be released this fall alongside the next-generation iPhone. Public beta testing program will start in July.

Leave a comment