IDC Posts Report on Global Smartphone Sales in Q3 2015 [Chart]

According to the latest numbers from a research firm called IDC, Samsung and Apple continue to dominate on the global smartphone market. Surprisingly enough, Chinese vendor Huawei comes closer and closer to the leaders demonstrating a 60.9% year-over-year market share growth as well as a substantial increase in the number of handsets shipped to customers worldwide.
As can be seen in the chart below, Samsung is a leader of the global smartphone market with 23.8% market share and 84.5 million handsets sold in the third quarter of this year. Apple occupies the second place with 13.5% share and 48 million iPhones sold over the last months. Huawei's market share is equal to 7.5% thanks to strong demand and 26.5 million handsets shipped to customers in the third quarter.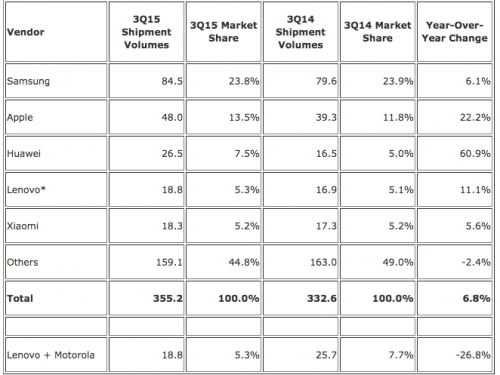 Overall smartphone shipments totaled 355.2 million worldwide in the third quarter, up 6.8% from the 332.6 million units shipped in the year-ago quarter, marking the second highest level of smartphone shipments for a single quarter ever. The growth was driven by new flagship devices such as the iPhone 6s, Galaxy S6 edge+ and Galaxy Note5.
Even though the gap between Apple and Huawei is still huge, looks like the Cupertino-based company now has a serious rival that appeared almost out of nowhere.
[via MacRumors]

Leave a comment