Image Showing Something Similar to iPad Pro Panel Appears Online

NowhereElse.fr reporters on Sunday published a new image showing something very similar to the panel for the long-anticipated larger iPad called presumably iPad Pro. While there's no way to confirm the legitimacy of the picture shown below, French journalists claim they obtained it from sources, which were reliable in the past. Still, I suggest that you should take everything with a few pinches of salt.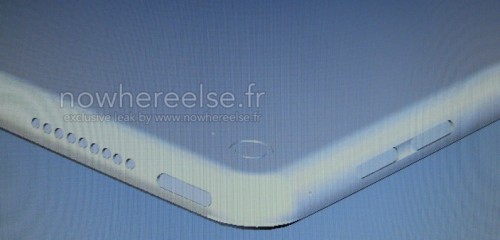 It looks like it is the season of sketchy schematics and component leaks again. Posted by NowhereElse.fr, this image is supposed to confirm the existence of an imminent larger iPad. According to the site, the images come from a source that was reliable in the past, passing over sketches of iPhone 6 chassis that turned out to be the real deal.
Anyway, let's get back to our leaked image. To be honest, the part shown on it looks pretty much the same as the panel for the existing iPad Air, especially since there's no indication of the size of the would-be tablet. However, as you might have already seen, there's an additional row of speaker holes on the top of the panel, which prove that the larger 12-inch iPad may get stereo speakers. Such a rumor appeared on the Internet last year. Apart from that, sources believe the next-generation iPad will be only 6.9mm or 7.5mm thick.
As to the date of the release of the new iPad Pro, it remains unknown. KGI Securities analyst Ming-Chi Kuo says we'll see the tablet in the second quarter of 2015. The experts from Bloomberg, however, believe the tablet will be officially unveiled early this year.
[via 9to5Mac]

Leave a comment