Images Show New 5.5-inch iPhone 6 Leaked Parts

Today a new report appeared online that suggests that the next-generation 5.5-inch iPhone 6 will be nicknamed as the iPhone 6L. Apart from this interesting piece of information, several new images surfaced online that show us a bunch of leaked parts for Apple's smartphone. These parts include a larger battery (I mentioned it in the previous post), a logic board and, of course, a front panel.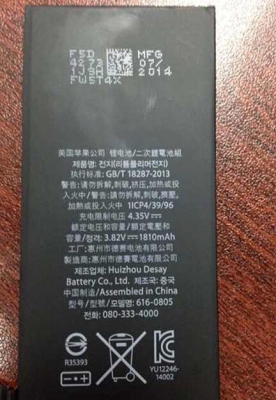 While there is no way to check the legitimacy of the photos, I believe that the parts depicted on them are legitimate. You see, according to the latest reports, the mass-production of the handset has already begun or will begin soon, that is why we may assume that some Foxconn workers got an opportunity to take some photos of the iPhone and its parts.
New photos have surfaced online that claim to reveal a front panel, logic board, and battery for the rumored 5.5-inch iPhone, allegedly called the 'iPhone 6L'.

The images were posted to appledaily.com.tw. The battery capacity for the 6L is shown to be 2915mAh; whereas, the battery capacity for the 4.7-inch iPhone 6 is shown to be 1810mAh.
What do you think about the images above and below? Leave your comments.
[via iClarified]

Leave a comment