In 2012 Samsung Outpaced Apple In Advertising Spending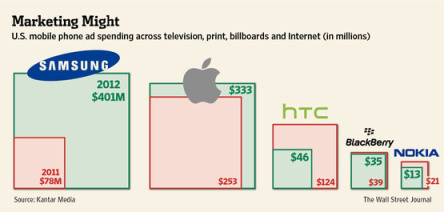 The Wall Street Journal published a new report outlining Samsung's aggressive advertising in 2012 based on the latest data from research company Kantar Media. The report notes that Samsung significantly increased its phone ad spending from $78M in 2011 to $401M in 2012, 20 percent higher than $333M spend by Apple.
"Outspent by rival Apple Inc. more than three to one in advertising for mobile phones in the U.S. in 2011, Samsung responded with a marketing blitz on TV, billboards, the Internet and print media that moved the Korean company into the pole position last year…"
The Wall Street Journal also noted, citing executives at carriers, that Samsung spends on below-the-line advertising more than any device manufacturer. Those funds helps to pay for promotions, advertising and training for sales representatives in carriers' stores.
An analyst Benedict Evans from Tech/telco noted that figures above account for about 10 percent of Samsung global advertising budget compared to one-third of Apple's budget, which reflects sales proportions.

Leave a comment