In 2013 Apple Expects To Earn $13 Billion From iTunes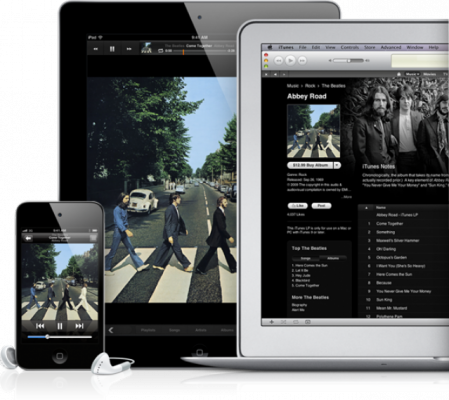 The continuous sales growth of Apple's iOS devices made it possible for Apple to expect growth of iTunes that includes iBookstore and App Store at a rate of 39% during the next three years and to earn tremendous $13 billion during 2013.
As one analyst at Global Equities ResearchTrip Chowdry said, publishers are increasingly interested in Apple's iBook format compared to Amazon's Kindle because of the growing popularity of the iPad. Here is what Trip wrote to clients:
Our research with students indicates that they would rather have books on iPad vs. Kindle.

In terms of usability of iBook vs. Kindle application on iPad – on a scale of 10, iBook is probably 8 and Kindle application on iPad is probably 5 – Kindle application lacks the finish and crispness of an iBook.
Apart from iBookStore, sales of the iPad continue to grow in the App Store. The attach rate for application on the iPad was on average about 15 apps six month age — and today this figure is over 45 apps.
After Apple's latest "Back to School" promotion, which greatly increased sales of Apple's Mac computers, Chowdry made adjustments to his estimates for third quarter sales. According to his forecast, it should be expected yield of $5.81 a share and revenues of $24.8 billion which will make up a growth of 65% and 58% respectively since 2010.
According to the forecast for 2011, Chowdry expects that Apple will hit profit of more than $104.08 billion and earnings at $25.09 per share, which will make up year-over-year growth of 59.8% and 65.6% respectively.
The company plans to announce its financial data for second quarter at a conference call on July 19.

Leave a comment