In Court Case Samsung And Apple Reveal U.S. Sales For Mobile Devices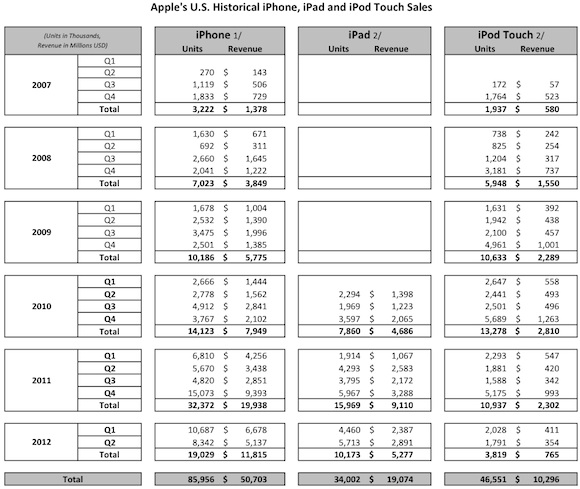 The patent dispute between Samsung and Apple continued to yield interesting information, with the latest data shared by AllThingsD revealing U.S. sales numbers of each company.
While Apple publishes its worldwide iPad and iPhone sales numbers on a quarterly basis, the document surfaced in the court specifically addresses Apple's U.S. sales and includes sales numbers for the iPod touch. Apple has traditionally referred to the iPod touch only generally as accounting for over 50 percent of total iPod sales.
Apple's sales numbers show that it has sold about 86 million iPhone in the U.S., which represent nearly a third of its total worldwide sales of roughly 250 million units. The numbers also reveal that Apple has sold 46.5 million iPod touches in the United States. On the iPad front, Apple's U.S. sales of 34 million units represent about 40 percent of its total worldwide sales of 84 million units.
Samsung's sales numbers are also of particular interest given that it ceased public reporting of its device sales in 2010 due to competitive reasons. Its numbers only include devices that are referred to in the lawsuit and thus omit several recent popular tablets and smartphones, but they provide some interesting information on the company's sales patterns. AllThingsD reports:
"Documents filed by Samsung lawyers on Thursday reveal that, from June 2010 through June 2012, Samsung sold 21.25 million phones, generating $7.5 billion in revenue. On the tablet side, the company sold 1.4 million Galaxy Tab and Galaxy Tab 10.1 devices, producing $644 million in revenue.

In terms of individual phone models, the largest in units were the Galaxy Prevail with 2.25 million phones sold, the Epic 4G with 1.89 million phones sold and the Epic 4G Touch variant of the Galaxy S II, which sold 1.67 million units in the U.S. All told, Samsung sold 4.1 million Galaxy S II devices, when all models are included".

Leave a comment