Industrial Rendering Reveals Widely-Rumored iPad Pro Dimensions

According to the latest industrial rendering, which appeared on the Internet on Friday, the long-awaited larger-screened iPad Pro may indeed get a 12.9-inch screen. As to the dimensions of the tablet, they might be as follows: 305.70mm x 222.60mm x 7.20mm. The most-recent rendering also proves the rumors about four speakers located at the top and the bottom of the device as well as the suggestions about Apple's plans to leave the ports and buttons layout similar to the layout of the iPad Air 2.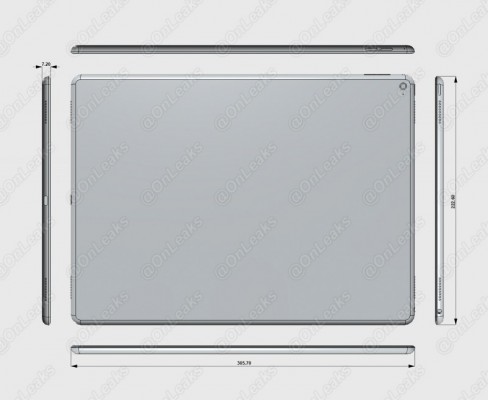 Although it is very difficult to prove the legitimacy of the aforementioned rendering, it should be noted that it was shared by reliable insiders from Nowhereelse.fr. This website has a good track record when it comes to the leaked parts for Apple gadgets.
The industrial rendering, dated December 2014, points to a 12.9-inch screen iPad Pro with dimensions measuring exactly 305.70mm x 222.60mm x 7.20mm, or 12 inches x 8.7 inches x 0.28 inches. These numbers line up closely with those seen in a previously purported design drawings for the device, although they are slightly larger than the earlier ones.
The date of the release of the 12.9-inch iPad Pro remains unknown. I believe the guys from Cupertino will launch the new tablet later this year to boost the declining sales of the entire iPad lineup.
[via MacRumors]

Leave a comment