iOS 10.3.1 Jailbreak May Be Released Soon

Security researcher Adam Donenfeld will soon release a kernel exploit for iOS 10.3.1. The information about firmware vulnerabilities may be used to create the jailbreak of this iOS version. The researcher says he won't release a tool for jailbreak himself, but may help those who decide to do this.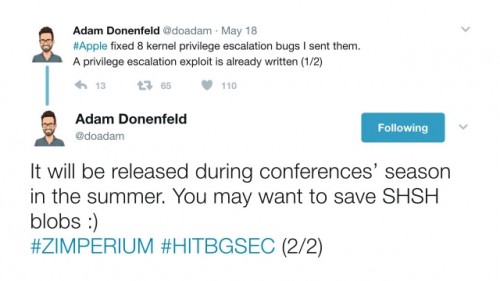 Apple has already fixed the vulnerabilities discovered by Donenfeld in iOS 10.3.2, but they can still be used to hack iOS 10.3.2 and iOS 10.2. If you still haven't updated your iPhone or iPad to the latest firmware version, you may wait and see what happens within next couple of weeks.
Here's what security researcher writes on his Twitter:
Apple fixed 8 kernel privilege escalation bugs I sent them. A privilege escalation exploit is already written. It will be released during conferences' season in the summer. You may want to save SHSH blobs
Stay tuned for more rumors about iOS 10.2 and iOS 10.3 jailbreak. We'll let you know when the tool is released for public.
[via iClarified]

Leave a comment