iOS 10 Adoption Rate Reaches 34% - Mixpanel

According to data shared by a research firm Mixpanel, iOS 10 is now installed on 34% of all compatible devices. Keep in mind that Apple released the new firmware version less than a week ago. 14.45% of users upgraded to iOS 10 in the first 24 hours after the release of the operating system.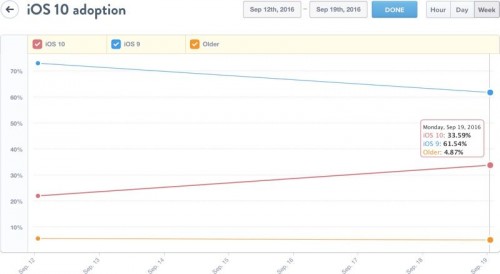 Anyway, iOS 9 is still the most popular version of Apple's mobile operating system. However, things will change gradually as new iPhone 7 and iPhone 7 Plus hit new markets. Moreover, many users now tend to upgrade a few days or weeks after the release of a major update to avoid having bricked devices or any other problems with the software.
Given iOS 10's steady growth, it could potentially overtake iOS 9 as the operating system with the fastest adoption rates. Last year, less than two weeks after it was released, Apple said iOS 9 was installed on more than 50 percent of active devices, the quickest adoption rates it had seen for an iOS update.
iOS 10 has a number of changes to the way it works and looks. Apple has added the ability to delete stock apps, improved Siri, Photos, Messages, and added a wide number of other enhancements and bug fixes.
[via MacRumors]

Leave a comment