Luca Todesco Has Jailbroken iPhone 7

A well-know developer Luca Todesco nicknamed qwertyoruiop has successfully jailbroken the iPhone 7 and once again proven that iOS 10 still contains vulnerabilities that can be used to hack it.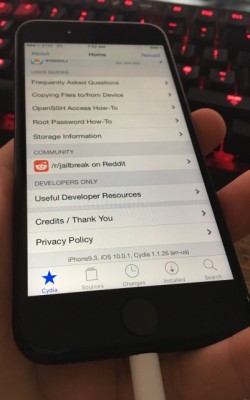 The hacker has earlier today shared a photo on Twitter demonstrating an iPhone running Cydia. The photo itself as well as the device shown by Todesco look legitimate.
This is not the first time we see iOS 10 jailbreak. Luca Todesco and other developers have shown us the jailbreak multiple times already. However, this is the first time we see a jailbroken version of iOS 10 running on the iPhone 7.
Hopefully, soon we'll see a fully functional tool for jailbreak available publicly. However, it is unlikely that it will be released by Todesco who is interested mainly in research.
Stay tuned for more news about jailbreak and don't forget to follow us on Twitter.

Leave a comment