iOS 4.3 to Launch on March 11th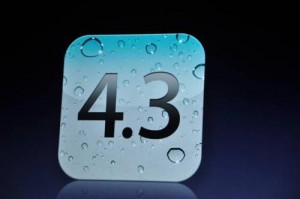 During yesterday's iPad 2 media event Apple announced that the new iOS 4.3 is to be released on March 11th.
"With more than 160 million iOS devices worldwide, including over 100 million iPhones, the growth of the iOS platform has been unprecedented," said Steve Jobs, Apple's CEO. "iOS 4.3 adds even more features to the world's most advanced mobile operating system, across three blockbuster devices-iPad, iPhone and iPod touch-providing an ecosystem that offers customers an incredibly rich experience and developers unlimited opportunities."
iOS 4.3 will include a number of new features such as:
Faster Safari – Apple starts using WebKit2 engine and doubles performance of JavaScript execution;
iTunes Home Sharing  to play music, movies and TV shows on an iPad, iPhone or iPod touch from iTunes library on a Mac or PC over a local Wi-Fi network;
AirPlay - iOS 4.3 will allow users to stream additional content including video from third party apps and web sites, videos from the Photos app and previews from the iTunes app to your TV;
Personal Hotspot - This feature allows you to share an iPhone 4 cellular data connection with up to five devices.

Leave a comment