iOS 5 untethered jailbreak will be released a bit later

Untethered jailbreak for iOS 5.0.1 has already been released. While there is no reason not to update to iOS 5.0.1, there might be some users who would like to stay on iOS 5 and have untethered jailbreak there too.
Famous hacker Joshua Hill (nickname p0sixninja) has recently posted via twitter that an untethered jailbreak for iOS 5 will be released soon after testing.
@p0sixninja: 5.0 untether will be coming soon, we still have some testing and bugs to work out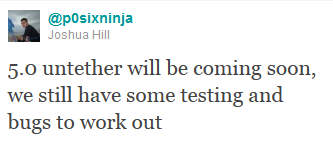 Leave a comment