iOS 7.0.6 Adoption Rate Reaches 13.3% in Just 48 Hours After Release

According to the latest report from Chitika Insights, Apple's iOS 7.0.6 managed to reach 13.3% of adoption in the United States and Canada only 48 hours after the release. The reason for so many users to upgrade was an important security improvement. As you probably know, the guys from Cupertino fixed the vulnerability that allowed hackers to attack the secure SSL connection without any warning for the device user.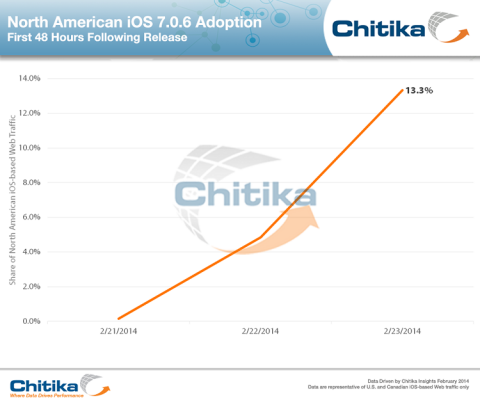 As seen in the above graph, the rate of North American iOS 7.0.6 adoption rose significantly on February 23, 2014.

[...]

Back in the summer of 2012, North American iOS traffic generated by users of another security-related iOS update, version 5.1.1, took close to three weeks to reach 58%.
As Chitika's researchers claim, iOS 7.0.6 will be able to break the record and reach the same level in a much shorter period of time. Well, we'll see.

Leave a comment