iOS 8 Adoption Rate Reaches 46% Week After Release

It has been nearly a week since Apple released its iOS 8 to users worldwide. Six days after the release, the latest version of Apple's mobile operating system is installed on 46% of all the iOS devices connected to the App Store. Well, at least this is what the guys from Cupertino say.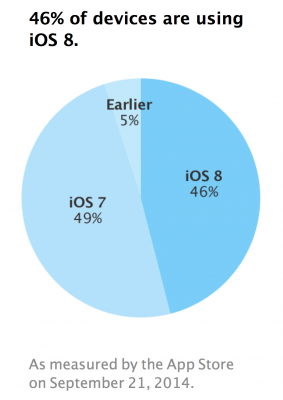 The information about iOS 8 adoption rate was first spotted on the App Store developer support page on Tuesday. According to the same source, 49% of users continue to use iOS 7 and about 5% haven't yet upgraded from older versions of iOS.
Apple has announced that iOS 8 adoption has already reached 46%. First spotted by iClarified, Apple quietly revealed the statistic on its App Store Distribution page.

The company says iOS 8 adoption reached 46% on September 21, 2014. 49% of users are still using iOS 7 and 5% of users are on earlier firmware versions.
Ahead of the iOS 8 release, 92% of devices connected the App Store were running iOS 7, 7% continued to use iOS 6 and about 1% utilized earlier versions of the operating systems. As you can see, now the figures are completely different.
[via iClarified]

Leave a comment