iOS Devices Took 80% Of All Enterprise Activations In The First Quarter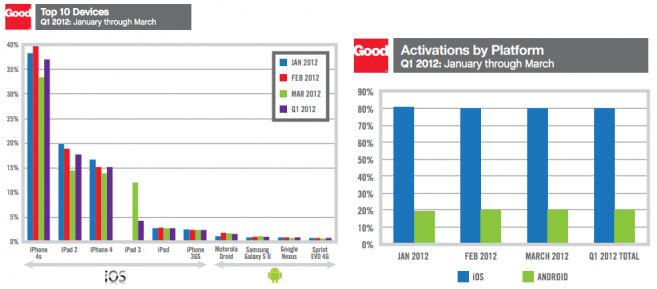 According to Good Technology's report on device activations from its enterprise customers in the first quarter of 2012, iPhone and iPad together continue to dominate in the enterprise market with about 73.4% of all smartphone activations, and 97.3% of tablet activations in the quarter.
The numbers show that iOS devices accounted for 80% of total activations, which is up 10% from last year. This week Tim Cook noted during the Q2 earnings call that iPad has been deployed or tested by 94% of the Fortune 500s and 75% of the global 500.
Among iOS devices, iPhone 4S was the absolute leader with 37%. And as can be seen from the graphic of the Top 10 Devices, iOS devices take up six of the top ten spots, and iPad 2 and iPhone 4S account for the majority of activations in the quarter. The 7th place in the top ten was taken by Android smartphone Motorola Droid with 1.6% of total activations. It should be noted that Good's numbers do not include Windows Phone and BlackBerry devices.
According to the report, despite strong start of iPad 3, the model did not yet have a substantial impact on new activations in this market. Good also noted that 30% of companies support either Android or iOS and abandon "bring your own device" model.
As you can see on the graphic below, iPhones continue to outstrip iPads in number of new enterprise activations: all iPhone models grabbed 55% of activations (up from 53% QoQ), while iPad models collectively captured 24.8% (up from 18%).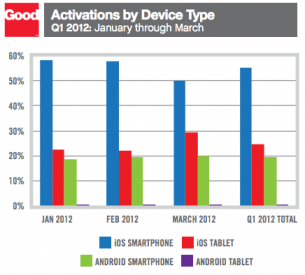 Leave a comment